Doug's most recent book Salmon Country, published by Goose Lane Editions, is available now.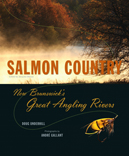 In a stunning combination of superb colour images and lively personal essays, Salmon Country takes us on an excursion along New Brunswick's famous salmon rivers. Marrying the words of Doug Underhill and the photographs of André Gallant, Salmon Country explores the people, the rivers, the traditions, history, and mythology of this sport of sports.
Underhill has written three children's books, a humourous Miramichi Dictionary, a sports book, three volumes of poetry, a collection of humourous fishing stories, and two which deal with folklore and history. Click on the above tabs for more details and purchasing information.
Presently, Underhill is working on another local history/folklore book, a fishing book, a novel and some poems.
Watch Doug's interview with ArtQuest.ca on life, fishing and "Salmon Country".