For mid August, we certainly cannot complain about the lack of water and warm temperatures.  The water is very high and temperatures are low.  If not pleasant conditions for anglers, the fish are certainly enjoying them.  Anglers are seeing fish, even though the catching is far from what anglers would like.  The counting fences are putting through a handful of fish, but there are no great numbers or a big run.
The positive is that with this amount of water, we should be able to escape the August doldrums we usually see at this time of year.  Hopefully a few rain-less days will get most anglers back on the rivers again.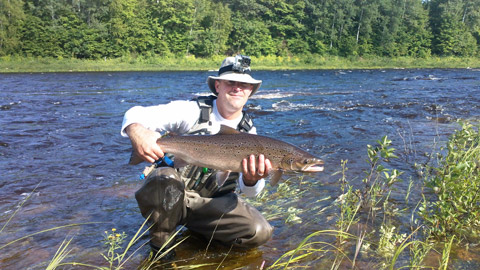 Doug White's Tammerack Sports Fly Shop in Juniper said once again Mother Nature has dashed all hopes of decent fishing water. The river is running spring freshet or higher with more rain in the forecast. With water of this magnitude there are no bars, beaches or pools in sight making fishing a very risky and dangerous sport. Sorry for the gloom but that's the way I see it.
W. W. Doak and Sons in Doaktown said there was lots of water on Wednesday.  The river there had come up 18 inches since Tuesday with more rain as I was talking to them.  However, there were some fish being caught, but not in gangbuster numbers.  As well, there were not a lot of anglers out due to the high water.  Catches were a mix of salmon and grilse with a higher percentage in favour of salmon.  Anglers were using boats and fishing from shore where possible.  Water temperatures were in the low 60s Fahrenheit and with lots of water, the conditions for mid August were much better than low and warm water that is usual for this time of year.  If there are a few days without rain, production could be good for the weekend.
Flies of choice were Same-Thing-Murrays, traditional Fall patterns, and even a few Spring streamers.  In general, big and colourful.
Derek Munn of Ledges Inn in Doaktown and Mountain Channel in the Rapids area said the water is high and it rose more Wednesday.  We are catching a few fish around the Islands and slow water pockets. But for the most part it is slow fishing but we can't complain about the water.
Flies of choice were White-tailed Green Machines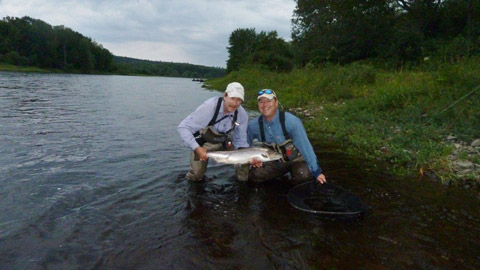 Herb Barry Sr. of Herb's Fly Shop on the Station Road in Blackville said there was water, water, and more water every where.  It was dropping until Wednesday, but it was still into the bushes, and a raise was expected again Wednesday.  Anglers were seeing some fish close to shore, but not many were being caught.  There were a few reported caught in the Upper Blackville area, but again, not many.  Many anglers were using boats and casting close to shore.  The positive is that at least it is good for the fish, if not the anglers.
Flies of choice were Green Rats, Cascades and General Practitioners.  Generally, anglers were switching to Fall patterns as they are big and bright for the high water.
Curtis Miramichi River Outfitting in Blackville said anglers were seeing good numbers of fish, but the water was very high, Some were being caught (mostly salmon) close to shore.
Flies of choice were White-tailed Green Machines with red butts and Krystal Flash, Undertakers, Same-Thing-Murrays, Shady Ladies, Blue Smurfs, Carter Bugs and Bombers on nos. 2 & 4 hooks.
George Routledge of George's Fly Shop at the Mouth of Renous in Quarryville said angling was not very good.  The water was very high and there were no fish being caught.  If there were any fish, they were in high gear motoring through.  The Renous River was also very high.
Flies of choice were Blue Cossebooms, Blue Charms and anything big on nos. 2 & 4 hooks.
Jim Laws of Miramichi Hunting and Fishing in Newcastle, Miramichi reported lots of water and poor fishing, if one could get to the river.  The Striped Bass season for retention was basically a write-off for the Miramichi as the fish had migrated throughout the Gulf.  If the retention period had been in September and/or October, results would have been much different.
Flies of choice were anything big and bright, with anglers moving to the Fall patterns such as Ally's Shrimps, General Practitioners and Chief Needabahs.
Syd Matchett of Trout Brook Fly Shop on the Northwest Miramichi said angling was very quiet and the rivers in most places were unfishable.  SA group of young tyers and anglers from Montreal dropped into Syd's shop early this week.  They had spent three days fishing the Restigouche and were staying at Debbie Norton's for several days.  Syd was thrilled to see the interest they showed and how polite they were.  Some of their success is below in Debbie's report.
AS well Sarah Martin, a student in the Miramichi Valley High Fly Tying club took her father fishing Sunday and showed him how it was done, landing her first Grilse.  "It shows how important these high school clubs are in teaching the younger generation about tying and angling" said Syd.
A couple of other anglers on the Northwest saw a few fish in a couple of pools and hooked a very small grilse that the anglers described as the size of a mackerel.  It was released.
Flies of choice were Shady Ladies, White-tailed Green Machines, Green-butt Bear Hairs and Same-Thing-Murrays on nos. 2 & 4 hooks.
Debbie Norton of Upper Oxbow Outdoor Adventures on the Little Southwest Miramichi said fishing had improved a little.  The water was still very high and more was expected.   One angler from England had picked up a grilse while a 10-year-old girl from Montreal and landed a 15 pound salmon.  A teenaged boy from Montreal also landed a grilse.  Another angler had hooked a fish on Tuesday evening, but just as he did, a thunder storm hit and scared the fish off his line and sent him scrambling for cover away from the water.  All in all, it was good fishing for mid August.
Flies of choice were White-tailed Green Machines, Shady Ladies and Green-butt Bear Hairs.
So take it easy on those spiders because we don't need any more rain for a while.  When the rivers drop off, then we can get out and "on the water".
Don't forget to show your support for our sponsors, because without them, this column would not be possible.
The Moncton Fish & Game Association holds meetings on the first Monday of every month. Call (506) 351-0799 for info. Their annual fundraising dinner will be held on November 30.
Visit Deals 4 U in Miramichi for your grocery needs, and good Cuban cigars to celebrate getting back to the rivers.
Providing quality gear for the outdoor enthusiast all year round, Pronature in Miramichi has you covered. Stop in to check out their rods, reels, tackle and gear.
Fishing Packages are available at the newly renovated Days Inn in Miramichi, located in the heart of downtown Miramichi, just steps from the mighty Miramichi River.
ANY FINANCIAL CONTRIBUTIONS TOWARD HELPING WITH THIS COLUMN ARE GREATLY APPRECIATED. Click here to donate now.  A SPECIAL THANKS to all who made contributions.
Thought for the Week: "Sleeping we image what awake we wish; Dogs dream of bones, and fishermen of fish"… Theocrites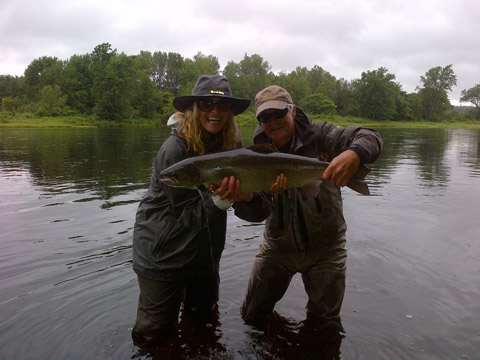 E-MAIL:
Hi Doug, I look forward to your report weekly. I recently hooked a salmon with a small blue tag attached to it. The tag had DFO's Moncton address on it as well as a serial number. I have went to the DFO's web site and can't find anything as to what info should be recorded or even how to report other than the obvious contact them. I was wondering if you could put something in your report to help others that might encounter another salmon with these tags. Thanks.
 
RESPONSE TO THE ABOVE:  Yes, take the tag off of the fish and send it to DFO's address as per the tag.  Also include where you caught the fish and when.  Automatically, your name will be entered for a $1500 prize.  You will also receive a sheet with information about your fish that will include where and when it was tagged, male or female, what it weighed etc, so put a return address on your envelope.
______________________________________
Relatively fishless, but a great two weeks nonetheless:  http://theriverscourse.blogspot.com/2013/08/miramichi-salmon-camp-july-2013_13.html
Hope your summer is going well!
Gary Tanner
______________________________________
ASF On Line Auction Starts August 29th
The Atlantic Salmon Federation is hosting an On Line Auction and the bidding starts August 29th at ibidmobile.net/asf
Some of the items that will be available include; A hard to come-by Bogdan Reel,  A Dove Hunting Trip to Argentina,  An Algonquin Resort Golf Getaway, Fishing at Salmon Lodge in the Gaspé and NFL Tickets.
We'll also have available a great selection of fishing rods, reels and fun non fishing items too.
All auction purchases help support the conservation efforts of ASF and our affiliates.
Check it out on August 29th!
Atlantic Salmon Federation 1-800-565-5666 |
Fax: 506-529-1070  |  Email:
______________________________________
Atlantic Salmon Federation News – Thurs. August 8, 2013
ASF RIVERNOTES – Are we in for a GREAT August return?
~~~~~~~~~~~~~~~~~~~~~~~~~~~~~~~~~~~~~~~~~~~~~~~~
ASF Rivernotes blog is updated, including the very latest Atlantic salmon returns. Also, with water levels higher and temperatures lower, could this be an exceptional August for salmon returns, and salmon anglers?
http://atlanticsalmonfederation.org/rivernotes/
A Small Stream in Corner Brook
~~~~~~~~~~~~~~~~~~~~~~~~~~~~~~~~~~~~~~~~~~~~~~~~
A success story is emerging of the work done on a small stream in western Newfoundland's largest city.
http://www.asf.ca/counting-salmon-in-corner-brook.html
Canada's Government and the Changes to the Fisheries Act
~~~~~~~~~~~~~~~~~~~~~~~~~~~~~~~~~~~~~~~~~~~~~~~~
Evidence has been emerging that changes in the revised Fisheries Act were largely influenced by industry. There is a major impact on habitat protection in Canada.
http://www.asf.ca/industry-demands-guided-fisheries-act-changes.html
Fear Among Irish Salmon Conservationist on News of Enlarged Chinese Market
~~~~~~~~~~~~~~~~~~~~~~~~~~~~~~~~~~~~~~~~~~~~~~~~
There is great concern among Atlantic salmon conservationists in Ireland on word that markets are enlarging for farmed salmon in China – that increases pressure to build large salmon farms in Ireland.
http://www.asf.ca/china-deal-spells-disaster-for-irish-salmon.html
~~~~~~~~~~~~~~~~~~~~~~~~~~~~~~~~~~~~~~~~~~~~~~~~
Until next week
TIGHT LINES
DOUG