For August, the fishing is not bad, but over all, it is only fair.  Fish are being seen, but not always in a taking mood.  Some are being caught with most being dark, although there are small numbers of brights dribbling through the system.  Most are hoping for a good Fall run which we did not have last year, so the clock is ticking.
The water levels are gradually getting back to normal, although still high in places.  Let's hope we do not get hit with another big deluge in the near future.
The trapnets had a few fish go through last week, but since then there were days with none and the odd days with only a few.  The Fall run certainly has not started yet.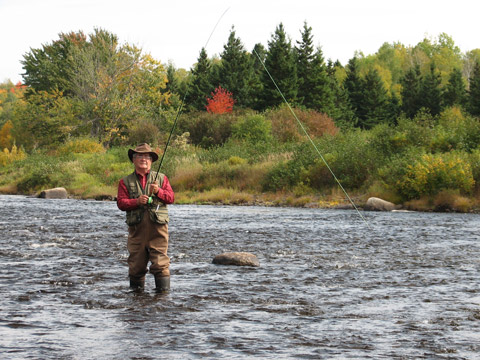 Doug White's Tammerack Sports Fly Shop in Juniper said there was not much too to report.  The river is a tad high but very fishable and all reports point to salmon in the pools. However, very few people are out.  He had talked to several fishermen about the lack of activity on the water and it seems the poor economy is playing a large part, price of fuel, and with the high water most of the season, many are writing this year off.
Flies of choice: Bombers with orange hackle, Green Bugs with white tails, Jigaboo, Same thing Murray and Undertaker.
W. W. Doak and Sons in Doaktown said water conditions were good both in height and temperature and there were some fish around, but they were moving.  There were even a few brights, but most were dark.  Not a lot of locals were fishing, but the camps had decent numbers of sports. Over all it was good fishing for August.
Flies of choice were Same-Thing-Murrays, Shady Ladies and White-tailed Green Machines along with some Fall patterns.
Derek Munn of Ledges Inn in Doaktown and Mountain Channel in the Rapids area said they were having fair fishing.  The water is near perfect height and temperature.  They were catching mostly salmon. There were lots of fishing showing but very fussy about taking a fly.  You really have to work for the ones you hook.
Flies of choice are bigger patterns like the Paul Caron Stonefly, Pacasse and a Blue Bombers.
Herb Barry Sr. of Herb's Fly Shop on the Station Road in Blackville said he had not seen a fish in six days.  The water was close to perfect in both height and temperature.  He was keeping his fingers crossed that we get a good Fall run.
Flies of choice were a variety of Bombers, Cascades and Fall patterns such as Ally's Shrimps and General Practitioners.
Curtis Miramichi River Outfitting in Blackville said water conditions were good and there were fish around, but they were not taking well.  There were some being hooked and they were mostly grilse, and big ones.  Canoeing conditions were very good.
Flies of choice were Same-Thing-Murrays, White-tailed Green Machines with Krystal Flash, Sugarman's Shrimp, Ally's Shrimps and General Practitioners.
George Routledge of George's Fly Shop at the Mouth of Renous in Quarryville said angling was pretty slow.  There were not many fishing, and not many being caught.  The water was dropping, but still high in the Main Southwest and very high in the Renous.
Flies of choice were White-tailed Green Machines, Butterflies, and Shady Ladies with white tails, Black Ghosts and Routledges.  Anglers were using no. 4 hooks on the Renous and no. 6s on the Main river.
Jim Laws of Miramichi Hunting and Fishing in Newcastle, Miramichi reported the water still a tad on the high side with good temperatures.  There were some fish being caught, but in no great numbers.  Striped Bass are starting to make their way back into the Miramichi, so the hook n' release fishing should soon be better.
Flies of choice were Bombers and Dry Flies, White-tailed Green Machines and the Fall patterns such as the Ally's Shrimps.
Syd Matchett of Trout Brook Fly Shop on the Northwest Miramichi said angling was pretty quiet, although it had been decent on the weekend.  Chris Edmonds did hook and release a salmon and two grilse Tuesday.  But generally there were only dribbles and drabs of fish here and there.  Most were dark.
Flies of choice were White-tailed Green Machines, Green Machines with red and green butts with Krystal Flash and Shady Ladies on no. 6 hooks.
Debbie Norton of Upper Oxbow Outdoor Adventures on the Little Southwest Miramichi said the best they could do was a couple of trout.  No salmon or grilse were caught, but water conditions were perfect.  She had heard not so good news about Miramichi Lake where DFO has been trying to eradicate the Small Mouth Bass from its waters so they don't get into the Miramichi River system.  Apparently, this year they caught more yearlings off-spring than they did last year.  So there is still a problem with them reproducing in the lake.
Flies of choice were White-tailed Green Machines and Undertakers.
So keep on the look out for the start of a Fall run so we can get out and "on the water".
Don't forget to show your support for our sponsors, because without them, this column would not be possible.
The Moncton Fish & Game Association holds meetings on the first Monday of every month. Call (506) 351-0799 for info. Their annual fundraising dinner will be held on November 30.
Visit Deals 4 U in Miramichi for your grocery needs, and good Cuban cigars to celebrate getting back to the rivers.
Providing quality gear for the outdoor enthusiast all year round, Pronature in Miramichi has you covered. Stop in to check out their rods, reels, tackle and gear.
Fishing Packages are available at the newly renovated Days Inn in Miramichi, located in the heart of downtown Miramichi, just steps from the mighty Miramichi River.
ANY FINANCIAL CONTRIBUTIONS TOWARD HELPING WITH THIS COLUMN ARE GREATLY APPRECIATED. Click here to donate now.  A SPECIAL THANKS to all who made contributions.
Thought for the Week: "The day was fine—not another hook in the brook".  Daniel Webster
Atlantic Salmon Federation News
ASF RIVERNOTES – New Numbers from Newfoundland, and a Look at Cameras
~~~~~~~~~~~~~~~~~~~~~~~~~~~~~~~~~~~~~~~~~~~~~~~~
The ASF RIVERNOTES Blog is updated, and includes the river counts just updated in Newfoundland, showing interesting returns for 2013. Also using cameras below the water surface and above the river.
http://atlanticsalmonfederation.org/rivernotes/
ASF Research Blog
~~~~~~~~~~~~~~~~~~~~~~~~~~~~~~~~~~~~~~~~~~~~~~~~
ASF Research Blog – updates of the field activities of ASF Research. This week the focus has been on electrofishing to assess fry and parr in southwest New Brunswick.
http://asf.ca/research-in-the-field.html
What Works and What Doesn't
~~~~~~~~~~~~~~~~~~~~~~~~~~~~~~~~~~~~~~~~~~~~~~~~
ASF is hosting an international Atlantic salmon science workshop focused on what works and what doesn't in restoration efforts. This is very timely, with the focus this year and next on Species at Risk assessments and the focus on the dynamics of Atlantic salmon runs.
http://asf.ca/experts-share-what-works-and-what-doesn-t-in-restoring-wild.html
Choose Your Seafood Wisely
~~~~~~~~~~~~~~~~~~~~~~~~~~~~~~~~~~~~~~~~~~~~~~~~
ASF supports the totally industry-independent seafood sustainability standards produced in the past few years. Read more about them – and ASF's efforts to generate support restoration of wild Atlantic salmon.
http://asf.ca/choose-your-seafood-wisely.html
~~~~~~~~~~~~~~~~~~~~~~~~~~~~~~~~~~~~~~~~~~~~~~~~
Until next week
TIGHT LINES
DOUG