Anglers are starting to pick up a few more fish then last week and are also seeing more. However, there is no concentrated run as of yet. The counting trap at Cassilis on the Northwest was averaging a fish every other day, while Millerton on the Main Southwest was averaging about six a day. A positive is found in an email below about the Penobscot River in Maine.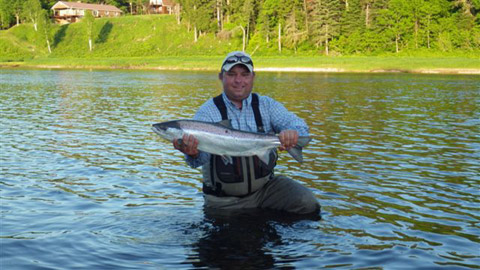 Doug White's Tammerack Sports Fly Shop in Juniper said the main run of Sea-trout seems to be reduced to stragglers. Of course while there is fishing to be had up the North and South branches they are not as assessable as the Main River. The water is dropping off and with no rain to speak of in the near future. This means no Salmon. I would expect this Father's Day weekend to be fairly quiet.
Flies of choice are: Buck Bugs, assorted Dries, small Streamers and Butterflies.
W. W. Doak and Sons in Doaktown said anglers were picking up some fish, a few more than last week, but still in no great numbers. Basically, there were a few going from Blackville to Doaktown with reports of both salmon and grilse. Water conditions were good on the Main Southwest Miramichi, but the tributaries could definitely use a good raise in water. They were hoping for more numbers next week, but felt this was a more normal start to the season than had been the case the last two seasons.
Flies of choice were Butterflies, Green-butt Bear Hairs, Undertakers and White-tailed Green Machines on no. 6 hooks.
Derek Munn of Ledges Inn in Doaktown and Mountain Channel in the Rapids area said angling was spotty. They were catching some and seeing some, but in no great numbers. Munn had hooked a salmon on Monday while fellow guide Andre Anthony hooked one and lost another. Rodney Colford hooked two salmon and a grilse Tuesday. Water conditions were decent, but a raise in water would be welcomed.
Flies of choice were White-tailed Green Machines, Undertakers and Same-Thing-Murrays.
Herb Barry Sr. of Herb's Fly Shop on the Station Road in Blackville said anglers were catching a few here and there, but no great amounts. He reported a couple of salmon Sunday, one Wednesday, and about a half dozen around the Upper Blackville Bridge to the Cains. He'd seen a salmon and grille jump. He heard that 13-year-old Connor Donovan had caught two fish on the Renous. There were no shad, except for the "special" at Value Food Store in Blackville. There were no trout to speak of, but Kathy Colford did catch a nice sea trout.
Flies of choice were Shady Ladies, White-tailed Green Machines with Krystal Flash and Green Rats all on no. 6 hooks.
Curtis Miramichi River Outfitting in Blackville said anglers were catching a few salmon and grilse, but not many yet. There were no significant trout reports. The water was low and starting to warm with this week's higher temperatures. Canoeing on the Main Southwest Miramichi was good, but iffy on the tributaries.
Flies of choice were White-tailed Green Machines and White-tailed Green Machines with Krystal Flash.
George Routledge of George's Fly Shop at the Mouth of Renous in Quarryville said there were a few salmon and grilse being caught, but not many. Still, it was an improvement over last week. On Sunday, there were two salmon caught: one at the Mouth of Renous and one at Kenny Hayes. Monday saw one fish at Quarryville. Tuesday there was a grilse caught near the Mouth of Dungarvon. There were also fish seen during these three days as well. The water was low and starting to warm up.
Flies of choice were White-tailed Green Machines, White-tailed Shady Ladies, Green Machines, Shady Ladies and Black Ghosts, all on no. 6 hooks.
Jim Laws of Miramichi Hunting and Fishing in Newcastle, Miramichi reported just a few fish here and there with no concentrated run. The Northwest was low and needed some decent rain. There were no trout reports.
Flies of choice were White-tailed Green Machines, Black Ghosts and Shady Ladies.
Syd Matchett of Trout Brook Fly Shop on the Northwest Miramichi said angling was still a bit slow with only a few fish reported caught along the river. Rick Miller had caught a grilse, Syd a salmon on Saturday and Zack Aubie a salmon Sunday. There were also a few salmon and grilse seen at various pools.
The crew at the Elbow Crown Reserve hooked one grilse and only saw several others. The water level was low on the Northwest and a good day's rain was needed. Bill Sargent caught and released a grilse, but still a bone to pick. He was told that a customer at Trout Brook Fly Shop had a very hard time getting service. The man was reported to have entered the shop, and had to thrash about for 15 minutes, stomping his feet and coughing loudly until Syd finally woke up from a sound sleep in his chair. Sargeant said he must have been having an awfully good dream because it took a long time to wake him. "Pretty soon we'll have to carry an old hand-held school bell to get some service", said Sargent.
Flies of choice were White-tailed Green Machines, Black Ghosts and Yellow Butterflies.
Debbie Norton of Upper Oxbow Outdoor Adventures on the Little Southwest Miramichi said there were a few stragglers coming through, but not many. The gaspereaux were well up the Little Southwest with some reported almost to Cleland's Pool. The water was low and rain is needed.
Flies of choice were Cossebooms and Orange Butterflies.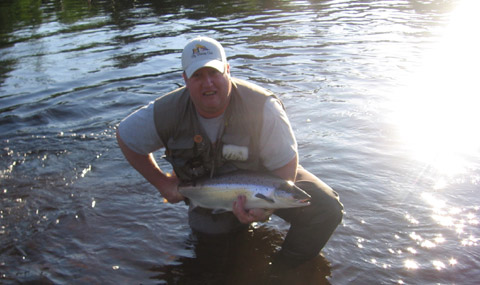 Each week there seems to be a slight improvement in numbers, so Mother Nature is taking her time, but I'm sure she'll send along big numbers soon, so get out and "on the water".
Don't forget to show your support for our sponsors, because without them, this column would not be possible.
Check out Deals 4 U in Miramichi for your grocery needs, and good Cuban cigars to celebrate getting back to the rivers.
Drop in Bryant Freeman's Eskape Anglers in Riverview to stock up on streamers for spring angling as well as any other equipment you may need such as a Reddington Rod.
Miramichi City Surplus on the outskirts of Miramichi in the Lower Derby road offers a nice range of rods, reels, tackle, bait and other outdoors supplies and hunting needs. Be sure to also bring along your recyclables.
Thought for the Week: "There will be days when the fishing is better than one's most optimistic forecast, others when it is far worse. Either is a gain over just staying home." ~Roderick Haig-Brown, Fisherman's Spring, 1951
RIVER-LORE: When the bumblebees arrive, the salmon are in the river. (Contributed by Glenn Russell)
E-MAIL:
Hi Doug: I look forward to your report each week and await news of when this year's run of new salmon will arrive. The salmon run in Maine on the Penobscot has started and they are 20 % higher than last year at this time. Last year was the best run in about 30 years with over 3,000 by the end of the season. Could we be about to see more fish returning than last year? Many thanks. Peter Dowling, MD, East Orange, NJ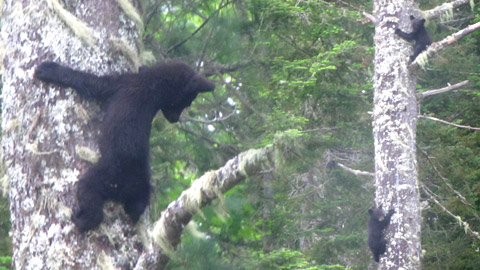 Atlantic Salmon Federation News
Tuesday, June 12, 2012
This is turning into a very exciting week for Atlantic salmon restoration, with events as far apart as Old Town, ME and Edinburgh, Scotland contributing good news for the future.
Great Day For a Great River in Maine
~~~~~~~~~~~~~~~~~~~~~~~~~~~~~~~~~~~~~~~~~~~~~~~~
Yesterday work crews began demolishing the Great Works Dam on the Penobscot River – and a celebration event was held to mark it. Read more about a spectacular milestone in the restoration of the Penobscot River, so important for Maine's Atlantic salmon population.
http://asf.ca/news.php?id=892
Good News – Agreement on Greenland Commercial Salmon Fishery
~~~~~~~~~~~~~~~~~~~~~~~~~~~~~~~~~~~~~~~~~~~~~~~~
ASF welcomes the decision in Edinburgh of NASCO not to reinstate a commercial Atlantic salmon fishery. ASF is one of 35 non-governmental organizations (NGOs) accredited at NASCO. ASF's Sue Scott was elected co-chair of the NGOs who play a vital role in NASCO's deliberations. Read more about the results of this year's decisions – the coverage has been widespread, with this example Yahool News.
http://asf.ca/news.php?id=891
ASF RIVERNOTES Update
~~~~~~~~~~~~~~~~~~~~~~~~~~~~~~~~~~~~~~~~~~~~~~~~
There is a June 12 update to the ASF RIVERNOTES
http://atlanticsalmonfederation.org/rivernotes
Protesters Urge Maine to Open Fishways to Alewives
~~~~~~~~~~~~~~~~~~~~~~~~~~~~~~~~~~~~~~~~~~~~~~~~
A flotilla gathered on the St. Croix River on the boundary of Maine and NB on Saturday to cheer the alewives headed up the St. Croix. Maine in 1995 unilaterally blocked much of the river to alewife migration.
http://asf.ca/news.php?id=890
~~~~~~~~~~~~~~~~~~~~~~~~~~~~~~~~~~~~~~~~~~~~~~~~
To keep track of breaking news on wild Atlantic salmon, use the Atlantic Salmon Federation's presence on Facebook. Log in, search for Atlantic Salmon Federation, and click "like".
ASF's Webworks is an updating service on the world of the wild Atlantic salmon.
Until next week
TIGHT LINES
DOUG