Striped Bass fishing continues to be extraordinary with many catches being had.  It is so nice to see so many out on the river, especially families, getting the young involved while sowing the seeds for future angling.  Remember, the retention period for Stripers ended yesterday.  There is consideration being given to another period of time in August, although this will be more for the other areas than Miramichi as the bass then have dispersed after spawning.
It has also been especially nice to see the wardens and biologists on site interacting with anglers.  That's the way for everyone to be on the same page!
Normally we would classify this time as the "in-between-season", but striped Bass have more than amply filled in the gap as we wait for the run of sea trout and the arrival of the first bright salmon.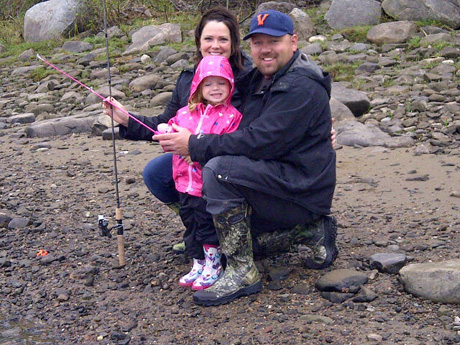 W. W. Doak and Sons in Doaktown said last week's rain had brought the river up nicely and conditions are very good for angling.  There were a few reports of some gaspereaux in the system, so the sea trout should be along soon as they generally follow the gaspereaux.  For sure, the next two weeks will have sea trout reports, but if you want to catch them, you have to be out as they are gone as quickly as they arrive.  There are a few spring salmon around, but basically that season has ended for all purposes.  Any hook-ups now will be while fishing for trout.  There were no bright salmon reported yet, but that time is approaching soon as well.  Fiddleheads are in full swing, so get out and pick a feed.  This long weekend should see a lot of canoes out for a run.
Flies of choice were Muddlers, Woolly Buggers, and some dry fly patterns.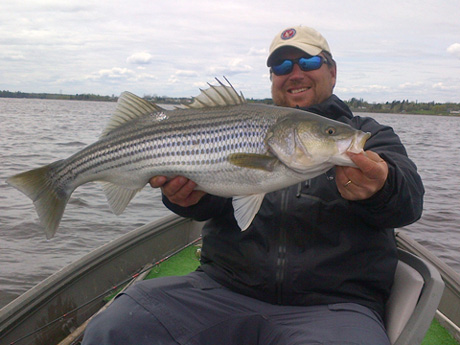 Derek Munn of Ledges Inn in Doaktown and Mountain Channel in the Rapids area said the spring salmon season was over and anglers were switching their efforts to trout.  They were catching a few, but not many yet as thee sea trout haven't arrived yet.  Their guides and sports have been fishing bass near Miramichi, catching some nice ones, but mostly hooking very good numbers of small ones.
Flies of choice were big Rabbit Strips and black Marabous.
Herb Barry Sr. of Herb's Fly Shop on the Station Road in Blackville said spring salmon were basically finished and only a few trout in the 12-14 inch range were being caught.  The water had come up nicely.  It was basically an "in-between" time in that area as anglers await the sea trout and the first few bright salmon.
Flies of choice were Muddlers, Rat-Faced McDougall's and some dry flies such as Killer Whiskers.
Curtis Miramichi River Outfitting in Blackville said the spring salmon season was over and anglers were picking up a few trout in the 12-14 inch range.  There were3 no bright salmon reported yet.  They felt it would be a busy weekend for canoers.  There are still a few openings for the May 25 Fly Fishing School. Contact them at (506)843-2481.
Flies of choice were Muddlers, Chief Needabahs and Black Ghosts on no. 4 hooks.
George Routledge of George's Fly Shop at the Mouth of Renous in Quarryville said that angling there was very quiet.  Anglers were picking up only a few small trout, most less than 12 inches, at the Mouth of Renous, in front of Kenny Hayes' and near the Quarryville Bridge.  There were some bigger trout around, but they were not being caught.  There had been a few Striped Bass caught below the bridge.
Flies of choice were Black Ghosts, Muddlers and Copper Killers on no. 4 hooks.
Jim Laws of Miramichi Hunting and Fishing in Newcastle, Miramichi reported lots of Striped Bass in the Miramichi area and right on through to above the Johnson Bridge on the Northwest.  The annual Red Bank Trout Derby is on this weekend Friday to Sunday.  Spring salmon were basically finished and there were no reports of brights yet.
Flies of choice were Muddlers Trout, Renous Specials and Smelts for Stripped Bass.  Now is the time to stock up on bright salmon flies.
Syd Matchett of Trout Brook Fly Shop on the Northwest Miramichi said spring salmon were done except for a few stragglers.  There were no brights reports yet, but Syd said he would not be surprised to hear of one or two by the weekend.  There was the odd trout being caught and even a couple of bright sea trout.  He saw one 21-incher (4 pounds) caught by Ba Tran Quan who also had a 20-incher the day before.  Fiddleheads are up and ready for picking.
Syd reported tremendous Striped Bass fishing in Miramichi. There were so many they had eaten the waders off Dave Ingersoll who had to call for a new pair which had to be sent by special delivery by Syd's wife Linda.  However, Ingersoll was so excited to get back to fishing, he forgot to put them on properly and was complaining he would have to return them as they kept falling down.  He had forgotten to snap the braces together.  Linda maintained that her job was only to deliver the waders, and to have to dress Ingersoll as well.
Flies of choice were Carter's Bug, Muddlers, Black Ghosts, Yellow-winged Butterflies and White-tailed Green Machines on no. 4 hooks.
Debbie Norton of Upper Oxbow Outdoor Adventures on the Little Southwest Miramichi said angling was quiet with only the odd spring salmon left, and no brights yet.  There were a few smaller trout being caught and the odd one in the 24 inch range.  There were lots of Striped Bass right up to the head of tide.  The out-going smolt run was in full swing.  The MSA had tagged 40 smolt with pingers to determine how many were making it out of the river and how many were being eaten by Striped Bass.  One Striped Bass keeper in the 57 cm range when cleaned had the following in its tummy: 1 smolt, 2 brook trout, 1 small bass and 7 smelts.
Flies of choice were Mickey Finns, Muddlers, and Butterflies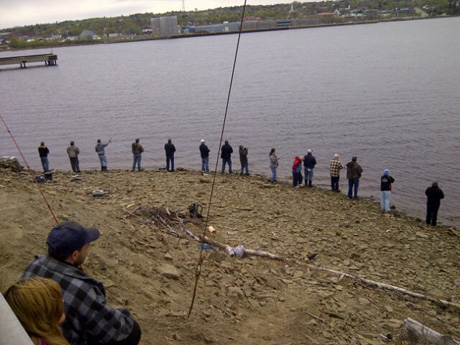 So with a long weekend on tap, take the opportunity to get out and "on the water".
Don't forget to show your support for our sponsors, because without them, this column would not be possible.
Drop in to Bryant Freeman's Eskape Anglers in Riverview to stock up on streamers for spring angling as well as any other equipment you may need such as a Redington Rod.
Providing quality gear for the outdoor enthusiast all year round, Pronature in Miramichi has you covered. Stop in to check out their rods, reels, tackle and gear.
Check out Deals 4 U in Miramichi for your grocery needs, and good Cuban cigars to celebrate getting back to the rivers.
ANY FINANCIAL CONTRIBUTIONS TOWARD HELPING WITH THIS COLUMN ARE GREATLY APPRECIATED. Click here to donate now.  A SPECIAL THANKS to all who made contributions last season.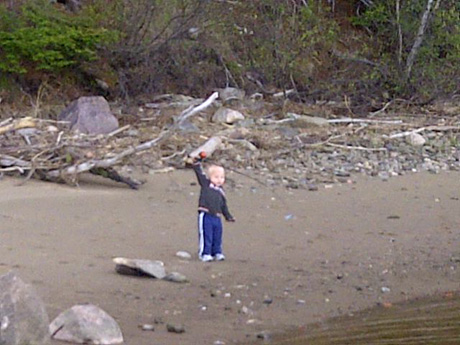 Thought for the Week:
"Soon after I embraced the sport of angling I became convinced that I should never be able to enjoy it if I had to rely on the cooperation of the fish."  Sparse Grey Hackle
Email:
From Marc Lanteigne, Aquatic Resources Division Manager
There may be some confusion on what to do when you catch a striped bass with a DFO tag.  The following information provides some instructions.
Striped Bass Tagging Study
The Department of Fisheries and Oceans (DFO) regularly tag fish in experiments to record fish behaviour, movements, growth and fishing catch rates.   The recovery of tagged fish and the success of such tagging campaign rely on the collaboration of recreational anglers and the fishing industry.
If you caught a tagged Striped Bass please take the following steps:
Remove the tag from the fish
Take note of capture date and location
Record total length (if possible)
Send the tag and all information to the address indicated on the tag
Striped Bass tagging study
Department of Fisheries and Oceans, Science Branch P.O. Box 5030 Moncton, NB E1C 9B6
If you want to know more about the tag information you collected and forwarded to DFO, please provide your name and address with the information
_______________________________________________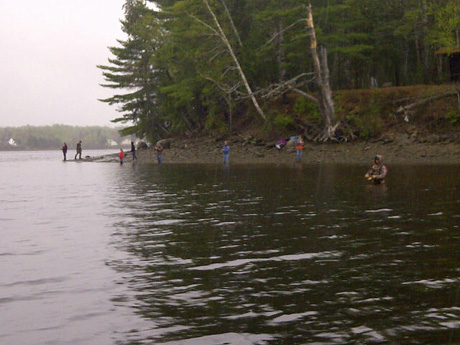 From the Miramichi Salmon Association
Hi All
Well today (May 15) is the last day of the retention fishery for striped bass. The season remains open for hook and release so please continue to enjoy this great fishery. Many people took advantage of the fishery but the size restriction did limit what some people took home as many reported catching fish but no keepers on certain days. I have attached a few pictures of anglers. I have also attached a picture of a bass with a smolt and trout that had been removed from its stomach on May 14th. The angler reported removing one smolt, two trout, 7 smelts and a baby bass. The bass are taking advantage of anything available to them.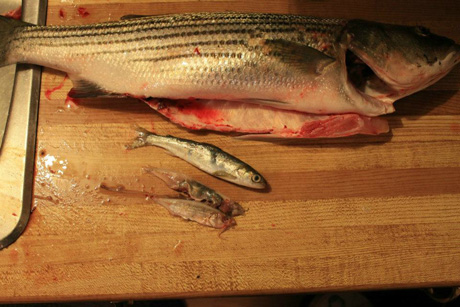 DFO has begun tagging bass removed from a gaspereau trap this week. Over 2300 bass were taken from the trap on Monday and about 300 of those fish were tagged. They are continuing to tag bass today and Friday and will continue three days a week until the gaspereau season starts. The gaspereau season usually starts around the 27th of May. DFO has a permit to remove stomach contents from 1000 bass and are taking some from this trap, the smolt trap, Red Bank fishery and anglers. They may not use all 1000 fish but we are anxious to hear of their results.
I was misinformed on what to do if you catch a tagged fish. Please remove the tag and send it with information on where and when it was caught, size and if it was retained to:
Scott Douglas
Fisheries and Oceans Canada
PO Box 5030
Moncton NB E1C 9B6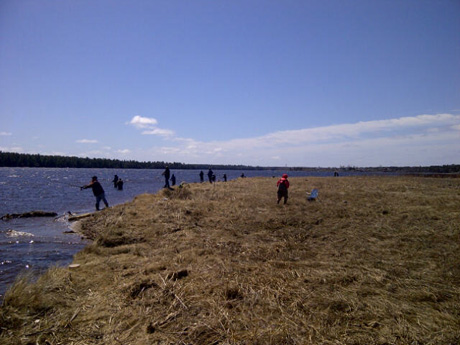 I had mentioned we were tagging 25 smolts leaving the Northwest to track their progress leaving the Miramichi system – the number has been modified to 40 with ASF moving some of the tags they had to the Northwest project.
Our smolt wheels continue to operate 7 days a week with highs of around 500 smolt being caught in one day. Numbers are down again today but we are expecting another peak with the next warm rain. The wheels and the smolt trap will be fished for another couple of weeks.
We will be tagging kelt with the remaining satellite tags and some more acoustic tags tomorrow.
The Miramichi Fly Fishing & Sportsman Show will be held Friday and Saturday May 24th and 25th at the Miramichi Curling Club. Please stop by = admission is $5 and all proceeds will go to support the Youth Fly Fishing Club.
The 2013 Annual Freeman Dunnett Moncton Conservation Dinner will be held on Thursday May 16th at the Crowne Plaza in Moncton. For last minute tickets please contact Jo-Anne at 506.457.2220 or Nola at 506.622.4000.
Province ponders new Crown waters rules
By James Foster
Times & Transcript
May 14, 2013
The provincial Department of Natural Resources says the Crown Reserve stretches are only producing about the half the revenue needed to maintain them and after the annual draw for the stretches is held every spring about half the stretches remain unclaimed. They are trying to find a better way of managing the stretches both for fishermen and the province so the department is exploring its options and consulting with user groups. For the full story go to http://www.miramichisalmon.ca/province-ponders-new-crown-waters-rules/
Have a great week
Nola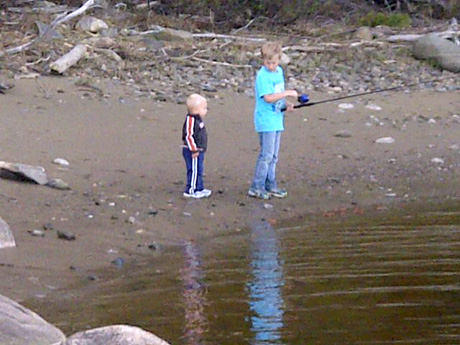 Until next week
TIGHT LINES
DOUG