The angling season, for the most part, is quickly coming to a close with most areas finishing on Tuesday, October 15.  Exceptions include the Bartibog, Burnt Church and Tabusintac Rivers which close October 29.  Be sure to check with local fishery representatives for any specific details.
For the most part, angling continues to be very slow, with only a few fish being hooked here and there.  Some have taken the opportunity to participate in a little "Cast 'n Blast" with bird season now open.  Others have enjoyed canoeing the various rivers to experience the changing Fall colours.  With Thanksgiving this weekend, it is a holiday weekend with decent weather forecast, so there is a last chance for some hours of angling.
W. W. Doak and Sons in Doaktown said angling picked up on the weekend, particularly on the upper end of the river in the Doaktown/ Boiestown areas.  The lower sections were still slow.  Water conditions were good.  Anglers were seeing a few more fresh fish.  The area had about ¾ of an inch of rain Monday evening/night which brought the river up about six inches. Anglers were catching mostly good-sized salmon in the 18-20 pound range, and mostly females.  One angler reported a 40 inch plus fish.  There have been very few reports of big Fall hook-bills which may lead some to conclude that they have not come in yet.
Flies of choice were Ally's Shrimps, General Practitioners, Glitter Bears, Same-Thing-Murrays and some Copper Killers.
Derek Munn of Ledges Inn in Doaktown and Mountain Channel in the Rapids area said the water was at a perfect level and temperature on Friday and they had great fishing over the weekend and into Monday. Tuesday it slowed down as it was very windy and there was a 12 inch raise in water. Saturday they hooked 15 and landed 12, Sunday they hooked 10 landed 8, and Monday they hooked 8 landed 7, so the fishing was fair on both  the main river and the Cains.  Munn added "Looks like we got good water until the end of the season. Let's hope we need on a high note."
Flies of choice were everything from dark Marabou patterns to #12 White-tailed Green Machines
Herb Barry Sr. of Herb's Fly Shop on the Station Road in Blackville said angling there was very quiet as the lower part (below Doaktown) of the Main Southwest Miramichi was not fishing well.  However, there were reports of a few hook-ups on the Cains.  He said the fish were there, but were not interested in taking.  It was basically salmon that were being hooked.
Flies of choice were Ally's Shrimps and General Practitioners.
Curtis Miramichi River Outfitting in Blackville said the Cains, Dungarvon and Renous rivers were fishing well, although the Main Southwest was relatively quiet. Water conditions are good and catches have been mostly female salmon.  Canoeing conditions are good.
Flies of choice were Ally's Shrimps in the top spot, along with some General Practitioners, Sugarman's Shrimps, Same-Thing-Murrays, L.T. Specials, Cains Coppers and even one fish on a Cosseboom.
George Routledge of George's Fly Shop at the Mouth of Renous in Quarryville said that there was one salmon hooked in the Rip last Friday.  Water conditions are perfect, but the only other catching was three Striped Bass at the Mouth of Renous on Tuesday evening.
Flies of choice were Shady Ladies, General Practitioners, Ally's Shrimps and Chief Needabahs.
Jim Laws of Miramichi Hunting and Fishing in Newcastle, Miramichi reported slow angling with anglers seeing a few, but they were not taking well.  Not many local anglers are out fishing, but water conditions are good.  The Striped Bass have returned in great numbers, particularly on the Nelson side of the river, although the hook and release season for them is closed.
Flies of choice were Ally's Shrimps, Shady Ladies and tradition Fall patterns.
Syd Matchett of Trout Brook Fly Shop on the Northwest Miramichi said angling improved this week with anglers catching more salmon than grilse..  Gerald Mercier of Calgary caught an 18-pound salmon while Mark Bishop landed a couple of salmon and a few grilse.  Anglers saw a fair number of fish Tuesday, but with the water was rising and they wouldn't take very well.
Flies of choice were Ally's Shrimps and L.T. Specials along with some White-tailed Green Machines and Bear Hairs.
Debbie Norton of Upper Oxbow Outdoor Adventures on the Little Southwest Miramichi said for a change, the fishing was good.  Lew and Marina Chase from New Hampshire had hooked a grilse each, Jim Stawarz of Maine had a grilse, Karl Purcell of Dartmouth, NS had landed a salmon and two grilse, and John Woods of Ottawa had landed a 25-pound salmon and a grilse.
Blogger Gary Tanner hooked three grilse, while Jeff Hall of Oakville< Ontario had three grilse as well.
Debbie and her husband Dale also had some luck while fishing the Main Southwest with Deb landing a 30-pound salmon at Clearwater and losing another at Mangles.  Dale landed a grilse at Big Sister pool.
Flies of choice were Purple Marabous, Golden Pheasant Spey and White-tailed Green Machines.
So angling seems to be a bit more positive than during the last several reports.  That bodes well for the final week, so get out and "on the water".
NOTE:  I have received several e-mails requesting a review of proper release techniques, but since it is so close to the end of the season, perhaps it would be better to do a review at the start of next season, so I'll plan for that early in April.
Don't forget to show your support for our sponsors, because without them, this column would not be possible.
Visit Deals 4 U in Miramichi for your grocery needs, and good Cuban cigars to celebrate getting back to the rivers.
Providing quality gear for the outdoor enthusiast all year round, Pronature in Miramichi has you covered. Stop in to check out their rods, reels, tackle and gear.
Fishing Packages are available at the newly renovated Days Inn in Miramichi, located in the heart of downtown Miramichi, just steps from the mighty Miramichi River.
ANY FINANCIAL CONTRIBUTIONS TOWARD HELPING WITH THIS COLUMN ARE GREATLY APPRECIATED. Click here to donate now.  A SPECIAL THANKS to all who made contributions.
Thought for the Week: "Whether I caught fish or not, just the thrill of rolling out that line and watching my fly turn over has been good enough for me. That and the hundreds of treasured memories I have of this wonderful sport."  Curt Gowdy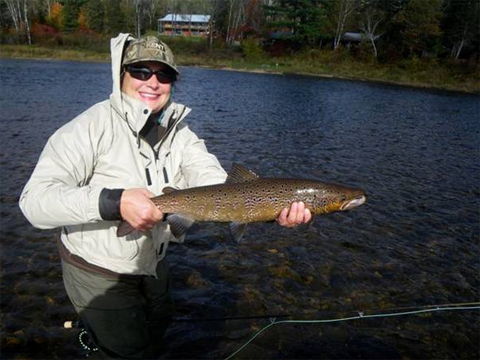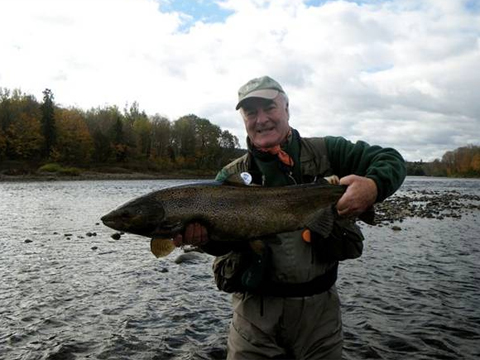 ~~~~~~~~~~~~~~~~~~~~~~~~~~~~~~~~~~~~~~~~~~~~~~~~~~~~~
Hi ALL
On October 8, 1953, a small group of conservation minded pioneers, all who shared a common love for the Miramichi and who feared for its future, registered a fledgling new organization called the Miramichi Salmon Association, Inc. (MSA). The group, made up of anglers, guides, camp owners, commercial outfitters and sporting good merchants, drafted a simple and somewhat optimistic statement that declared as its mission; "the propagation, protection and perpetuation of the Atlantic Salmon in the Miramichi River system".  Sixty years later, that fundamental goal still directs the programs and activities of the MSA.
Please raise your glass – or your fishing rod – to the Miramichi Salmon Association – celebrating our 60th birthday today! We would like to thank you all for your past and continued support!
Then… And Now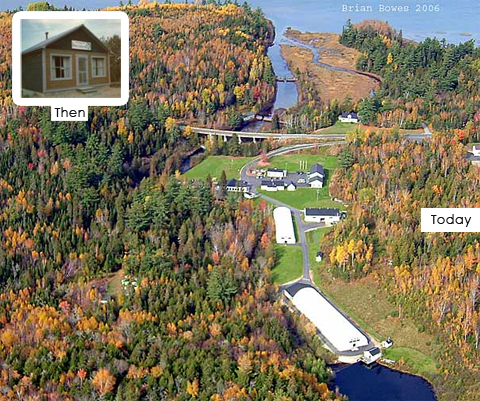 Nola Chiasson
Membership Programs Coordinator
Miramichi Salmon Association
~~~~~~~~~~~~~~~~~~~~~~~~~~~~~~~~~~~~~~~~~~~~~~~~~~~~~
Hi All,
The last weekend of the season is upon us and the weather will be cooperating with lots of sun and highs of 14 an 15 degrees (57 – 59 F). The water has dropped some so fish have moved back into pools – a great time to enjoy some fall fishing and the great fall colours.
Our staff have been collecting broodstock throughout the watershed and we will begin checking females next week, expecting the first ones to be ready for spawning by the 11th. The high water has hindered our progress somewhat. The first attempt at Clearwater Brook was abandoned due to very high, very fast water last week but fish were collected there on Monday and from Juniper on Tuesday. The staff tried collecting fish at Moose Landing on the Little Southwest yesterday but water levels were about two feet higher than expected – we are hoping the water will drop and we can collect from the Little Southwest and Burnt Hill Brook next week. Sevogle and Cains River broodstock are collected by angling.
Spawning season is a great time to visit us at the hatchery in South Esk. Fish are checked regularly and are spawned when ready – spawning is done in the morning as the eggs need to 'water-harden' by sitting for four hours before being disinfected and put away. If you would like to watch the spawning process please call me at the hatchery at 622-4000 the day before you would like to come to ensure we will have fish ready. We often have school groups come so pass the word on to any teachers you think may be interested.
Beaver dam reconnaissance continued this week with flights over the Northwest Miramichi, Sevogle, Little Southwest Miramichi, Cains, and the upper stretches of the Southwest Miramichi. The plan of attack will be put together next week and crews will begin breaching dams to allow salmon movement upstream later in the month.
The Cassilis and Millerton trap numbers have been low but consistent, catching approximately 3 – 7 fish daily. Millerton had about 5 – 7 fish daily this week except for today when there were none in the trap. Cassilis had lower numbers with 2 – 3 fish daily but today had 9 (6 grilse and 3 salmon). The good news is that almost all of the fish caught this week had lice on them so they are fresh fish coming in.
The Northwest Barrier was holding 404 fish (214 salmon, 186 grilse) as of Sept 29th, an increase of 4 fish over the week. This compares to 289 fish at the barrier the same time last year (128 salmon, 161 grilse).
The Dungarvon Barrier was holding 469 fish (253 salmon, 216 grilse) as of Sept 29th, up 6 fish from the previous week. This compares to 242 fish at the Dungarvon barrier the same time last year (107 salmon, 135 grilse).
12th Annual Autumn Run Dinner in Saint John – WE'VE HIT A DAM and had to change course.  This event has changed dates and is now planned for Tuesday, October 29th, 2013 at the Royal Ballroom of the Delta Brunswick. The reception and silent auction will begin at 6:00pm with dinner at 7:30pm followed by the Live Auction. This is a joint dinner with funds shared between the Atlantic Salmon Federation and the Miramichi Salmon Association.
Honourary Dinner Chairman
Lino J. Celeste
Lino has served as the Chief Executive Officer and President of NBTel and as President and Chief Executive Officer of the New Brunswick Telephone Company Limited. In addition to being an avid salmon angler and conservationist, Lino has extended his energies to many local charities and foundations including the St. Joseph's Hospital Board, the Saint John Board of Trade, The Saint John Community Foundation and the Saint John Antipoverty Group. He has also sat on, or chaired numerous prominent boards across Canada.  The salmon community is fortunate to count him as a friend.
Auction Highlights at the Saint John Dinner include fishing trips to Rocky Brook, Glen Eden Salmon Lodge, Burnt Hill, Wade's Fishing Camp, Rocky Bend and Mountain Channel Salmon Club. For more information visit our website at Saint John Dinner. For tickets call Jo-Anne at 506.457.2220.
The NB Liquor Protect Our Rivers – Protégeons nos rivièressale program raised $135,000 for river conservation in New Brunswick this year. 100 percent of that amount is available to projects by community groups, First Nations and other in 2014.
This would not be possible without the support of NB liquor store staff and managers and we would like to send out a thank you to all.
And finally I would like to invite you all to join us at "60 on 60" – A celebration of MSA's 60th Anniversary and Mark Hambrook Roast.
This event will be held on Saturday November 16, 2013 at the Renous Rec Centre. The Reception and Silent Auction will begin at 5:30 and dinner will be at 7:00pm followed by a Live Auction. Entertainment will include musical guests and a roast of MSA President (and Renous native) Mark Hambrook. Please mark this date on your calendar as it is sure to be a fun evening. Tickets are $40 each or two tickets for $60. For tickets call me at 506.622.4000 or Jo-Anne at 506.457.2220.
Have a great weekend!
Nola Chiasson
Membership Programs Coordinator
Miramichi Salmon Association
~~~~~~~~~~~~~~~~~~~~~~~~~~~~~~~~~~~~~~~~~~~~~~~~~~~~~
E-mail: From Martyn Vickers
Doug,
It's time to be brutally honest.  The catching on the lower Main Southwest and Cains is very, very limited.  Very, very few salmon are showing.
We owe it to our sports to paint a very scary picture.  It is not fair to minimize the concern in the Miramichi valley about the condition of the Atlantic salmon run.
Water height and temperature is ideal.  The weather has been spectacular, but when a sport calls I feel he should be told the chances of hooking an Atlantc salmon is slim to none.  If they are mislead, it is unlikely they will return next year.
The chief indicator of the conditions is to see few New Brunswickers are fishing these days.
Martyn
~~~~~~~~~~~~~~~~~~~~~~~~~~~~~~~~~~~~~~~~~~~~~~~~~~~~~
Until next week
TIGHT LINES
DOUG