MIRAMICHI – It is no surprise to say we basically have a repeat of the last several weeks with a few dark fish being hooked in the cold water pools, and certainly no fresh fish.  The Counting trap at Millerton reported three fish on Monday, but normally an average of one or two a day.  They said Cassilis had a fish on September 4 and another one on the weekend.  So not much is moving.
The most excitement on the river this week was a mysterious "fin" sighted at Ritchie Wharf in Newcastle, Miramichi.  Some thought it was a shark, while others said a porpoise, a dolphin or a small Minke or Pilot Whale.  Check out Dave Ingersoll's photo for yourself.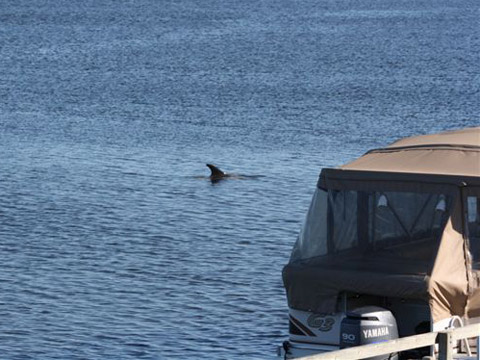 Doug White's Tammerack Sports Fly Shop in Juniper said there was nothing new to report. With no rain in sight he thinks we can call the salmon season in the Juniper area done for this year. He said he hated to give up, "but I know when I'm beat." I'll keep you informed if there are any changes.
W. W. Doak and Sons in Doaktown said angling was picking up a bit, and definitely more positive than it had been.  On Tuesday there had been a few fish caught in both the Doaktown and Boiestown areas.  However, there were no fresh fish.  Water temperatures were cooler (in the low 60s Fahrenheit in early mornings & not into the 70s by day's end).  There were certainly more anglers on the river than in the past month or so.  A big rain is still needed to really improve conditions and perhaps bring in some fresh fish.
Flies of choice were Ally's Shrimps, Glitter Bears, Undertakers, Same-Thing-Murrays, Black Bugs and White-tailed Green Machines.
Derek Munn of Ledges Inn in Doaktown and Mountain Channel in the Rapids area said angling was decent in a couple of their pools.  They had caught 4 or 5 on Tuesday and 5 salmon and a grilse on Wednesday morning.  However, none of the fish were fresh.  The water was low, but cool.
Flies of choice were Ally's Shrimps, Tippet Shrimps, Blue & White Bombers and the Maribou Green Slime.
Herb Barry Sr. of Herb's Fly Shop on the Station Road in Blackville said there were no fish around to speak of, only a few black ones that have been in the system since July.  "A fish would pretty nearly need roller-skates to get over the rocks" he said.  There were no fresh fish, with the old ones gradually moving up river from one brook to the next.
Flies of choice were the Fall patterns of which they had a good stock.
Curtis Miramichi River Outfitting in Blackville said anglers were picking up only the very odd fish, and definitely in no great numbers.  There had been a couple hooked at Quarryville, but generally things were quiet with no fresh fish.  Canoeing and water temperatures were good.
Flies of choice were White-tailed Green Machines, Red-Butt Green Machines with white tails, Ally's Shrimps, General Practitioners, Sugarman's Shrimps and Bombers.
George Routledge of George's Fly Shop at the Mouth of Renous in Quarryville said there were a couple of fish caught Sunday evening, but they were very dark.  There were no fresh fish.  The water had come up a bit and was cooler, but the improvements were not certainly enough to bring in new fish.  Anglers were not even seeing any amount of fish jumping or rolling.  Generally, angling was very poor.
Flies of choice were White-tailed Green Machines, Shady Ladies, and anything "blue" such as Bombers, Blue Charms and Smurfs.
Jim Laws of Miramichi Hunting and Fishing in Newcastle, Miramichi reported very slow angling with only an odd fish being hooked, and there were certainly no fresh fish around to speak of.  Fortunately, water temperatures were good, but the levels were very low with a big rain needed.
Flies of choice were Ally's Shrimps with a variety of other Fall patterns.
Syd Matchett of Trout Brook Fly Shop on the Northwest Miramichi said angling was still very quiet with only some old dark fish around, and they were generally not in a taking mood.  The water on the Northwest had come up about four inches and then dropped back just as quickly.  However, what water there is, was cool.
Flies of choice were Carter's Bugs, Ally's Shrimps and White-tailed Green Machines.
Debbie Norton of Upper Oxbow Outdoor Adventures on the Little Southwest Miramichi said basically there were no fish and certainly no fresh fish with only an odd one being caught.  The water was cool and Fall low.
Flies of choice were orange Maribous.
So we continue to hope and wait for a good rain to really freshen the system and to perhaps bring in fresh fish if there are any waiting "in the bay" to come in.  Then we can get back "on the water".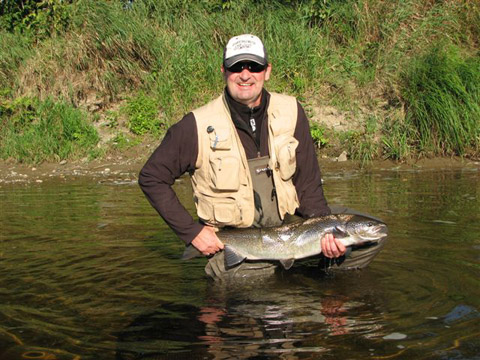 Don't forget to show your support for our sponsors, because without them, this column would not be possible.
Check out Deals 4 U in Miramichi for your grocery needs, and good Cuban cigars to celebrate getting back to the rivers.
Drop in Bryant Freeman's Eskape Anglers in Riverview to stock up on your Fall Patterns as well as any other equipment you may need such as a Redington Rod.  Don't forget this is the home of the "Carter's Bug" as only Bryant can tie it!
ANY FINANCIAL CONTRIBUTATIONS TOWARD HELPING WITH THIS COLUMN ARE GREATLY APPRECIATED: Click here to donate now.
Thought for the Week: "There will be days when the fishing is better than one's most optimistic forecast, others when it is far worse. Either is a gain over just staying home." Roderick Haig-Brown
E-MAIL:
Hi: Fished Cruickshank 9./10/ Sept. landed and released  one grilse ( 60 cm.  Green Machine, Camp Pool )   I Like your fishing report.
Thank you
Ernst Zwahlen
Mundleville NB
Atlantic Salmon Federation News
Monday, Sept. 10, 2012
ASF RIVERNOTES – Are the salmon waiting for rain?
~~~~~~~~~~~~~~~~~~~~~~~~~~~~~~~~~~~~~~~~~~~~~~~~
ASF RIVERNOTES has the latest information with updates on conditions as we head into the Autumn.
http://atlanticsalmonfederation.org/rivernotes/
~~~~~~~~~~~~~~~~~~~~~~~~~~~~~~~~~~~~~~~~~~~~~~~~
To keep track of breaking news on wild Atlantic salmon, use the Atlantic Salmon Federation's presence on Facebook. Log in, search for Atlantic Salmon Federation, and click "like".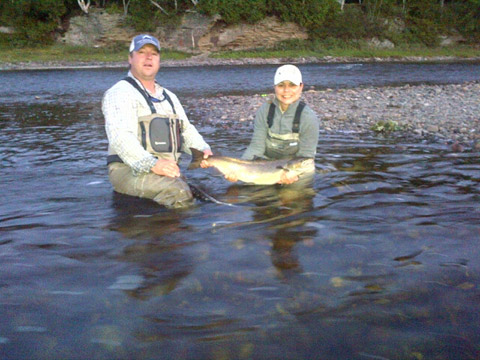 Good Day All,
I am very pleased to give you our updated list of fishing pools for the fundraising auction, following our induction ceremony on Saturday, September 15th.  The attachments tell the story.  Because of a larger venue this year a few tickets are still available.  Thank you to those who have already purchased and I look forward to seeing you this weekend.  Your ticket allows you complimentary entrance to the museum between 10am and 4pm.  This gives you an opportunity to check out our 'Hall of Fame.'
The waters in our auction (alphabetically) are as follows:
•         Blissfield Sporting Camp
•         Bullock's Lodge
•         Country Haven Lodge
•         Larry's Gulch Lodge
•         Ledges Inn
•         Push & Be Damned
•         Rocky Brook Fishing Camp
•         Slate Island Lodge
•         Taxis River Outfitters
Click  here to view our poster!
Have a great day,
Linda Gaston
Executive Director
Miramichi Salmon Museum Inc.
The song of the river ends not at her banks, but in the hearts of those who have loved her.
Until next week
TIGHT LINES
DOUG